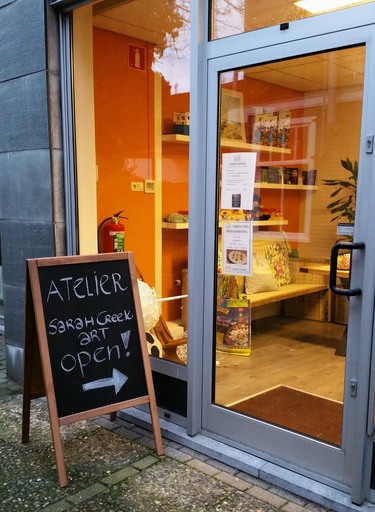 Open Studio
Day and time: Tuesday, Wednesday and Thursday evening: 19:00 - 21:30.
Wednesday morning: 09.30-11.30
Location: Zuideinde 18 , 7941HM Meppel
Costs: 5 lessons: 75 euros (including material: 90 euros)
10 lessons: 150 euros (including material: 165 euros)
Includes coffee and tea. Prices include BTW
Number of participants: minimum 4 and up to 6 people.
You can enter this 10-day workshop and participate in five evenings. Ideal if you want to finish a painting.
Necessities:
* Acrylic paint in the colors: red, yellow, blue, white and black and roasted omber and burned sienna.
* Case with pencil, ruler, gum, black pen or fine writer.
* Canvas or linen / paper (70 x 50 cm)
* Plastic plates / palette
* Brushes in different sizes, flat and / or pointed tip. no pig hair. Synthetic or marter hair.
You will learn sketches and acrylic glaciers. That's a painter technique that makes your acrylic painting in layers. The effect of this is that you will have a deep effect through the layer coating and the colors will be bright. In addition, you can also learn watercolors, mixed techniques and work with palette knives. There is of course room to work abstractly or to paint a poem or event.
You can also sketch and paint the perception. In my opinion, it is important to listen to your feeling and intuition. Painting has to do with expressing your feelings. The goal will be to use techniques to transform your feeling and intuition into acrylic on canvas. What you learn in the moment, apart from incentives around you. Eventually you will see this in the end result.
When you start with the Open Studio , it's good to think about what you want to make before that time. You can paint a photo.Forr this you need two color copies. During the first lesson, I explain how this technique works.
Information: 0613088900 / sarahcreekart@gmail.com